Garden Shed Removal
Rubbish Removal and Garden Clearances
Garden sheds are beloved additions to many homes, providing storage space for tools, equipment, and seasonal items. However, there comes a time when these structures may need to be removed due to damage, deterioration, or changing landscaping needs. By taking the right approach and following the guidance provided, you can efficiently and safely dismantle and dispose of your garden shed, despite the daunting nature of the task. In this comprehensive guide, we will walk you through the entire process, step by step.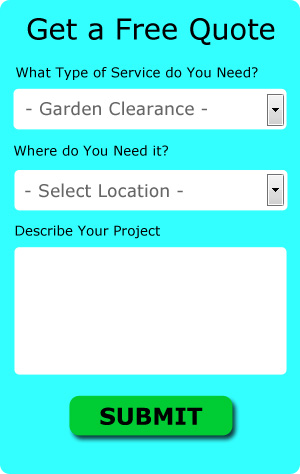 Assess the Situation
Before you dive into shed removal, it's essential to assess the situation carefully. Take a close look at your shed's condition. Is it damaged beyond repair? Are there any hazardous materials, like asbestos or lead paint, that need special handling? Assessing the situation will help you determine the complexity of the removal process and whether you may need professional assistance.
Plan and Prepare
Proper planning is key to a successful garden shed removal. Start by gathering the necessary tools and equipment, including:
Safety gear: Safety goggles, gloves, and a dust mask to protect yourself from debris and potentially harmful substances.
Hand tools: Screwdrivers, wrenches, hammers, pliers, and a utility knife.
Power tools: A reciprocating saw, circular saw, or drill with the appropriate attachments can make the process quicker and more efficient.
Ladders: To access the roof and upper portions of the shed.
Work gloves: Sturdy gloves to protect your hands during disassembly.
Containers: Have bins, bags, or boxes on hand to organize and transport smaller shed items.
Clear Out the Shed
Before you can begin dismantling the shed, remove all items stored inside. This includes tools, equipment, gardening supplies, and any other possessions. Properly organize and categorize these items to facilitate reorganization or disposal later.
Disconnect Utilities
If your garden shed is equipped with utilities such as electricity, water, or gas, ensure that these connections are safely disconnected before you start the removal process. This step may require the assistance of a qualified professional to ensure safety and compliance with local regulations.
Obtain Necessary Permits
Depending on your location and the size of your garden shed, you may require permits or approvals from your local authorities to proceed with removal. Check with your city or county's building department to determine the specific requirements and obtain any necessary permits.
Choose a Removal Method
There are two primary methods for removing a garden shed: partial disassembly and complete demolition.
Partial Disassembly: In this method, you carefully dismantle the shed piece by piece, starting with the roof and working your way down to the walls, doors, and flooring. This approach is less destructive and allows for salvaging materials for reuse or recycling.
Complete Demolition: Complete demolition involves bringing down the entire shed in one fell swoop. This method is quicker but generates more waste and may not be suitable if you want to salvage any materials.
Your choice of removal method will depend on your goals, the shed's condition, and your willingness to invest time and effort in the process.
Safety First
Before you begin the removal process, prioritize safety. Put on your safety gear, and if you are working with power tools, ensure they are in good working condition. Be cautious when climbing ladders and working at heights. If you have any concerns about structural stability or hazardous materials, consider seeking professional assistance.
Partial Disassembly
If you opt for partial disassembly, follow these steps:
Step 1: Remove the Roof
Start by removing the roofing materials, whether they are shingles, metal sheets, or another type. Carefully detach any screws or nails securing the roof to the shed's framework.
Once the roof is removed, you can access the shed's interior more easily.
Step 2: Dismantle the Walls and Siding
Begin with one wall and remove any doors or windows first. Take care when handling glass to avoid injuries.
Remove any screws, nails, or bolts securing the wall panels to the frame.
After one wall is detached, move on to the next until all walls are removed.
Step 3: Disassemble the Flooring
If your shed has a wooden floor, carefully pry up the boards and remove any fasteners.
If there is a concrete or gravel foundation, you may need to break it up with a sledgehammer and remove the debris.
Step 4: Salvage Materials
As you disassemble the shed, set aside any materials that can be salvaged or recycled, such as lumber, roofing materials, or doors.
Properly dispose of any materials that cannot be recycled.
Complete Demolition
If you decide to go for complete demolition, follow these steps:
Step 1: Safety Precautions
Ensure you have a clear and safe area around the shed to prevent accidents.
If your shed has windows, consider covering them with plywood to minimize flying debris.
Step 2: Demolition
Use a sledgehammer, pry bar, or heavy equipment (if available) to bring down the shed walls and roof.
Work methodically, starting with one section of the shed and progressing to the next.
Be cautious and watch for any potential hazards during demolition.
Step 3: Cleanup
After the shed is completely demolished, gather and dispose of the debris in accordance with local waste disposal regulations.
Salvage any reusable materials and recycle or dispose of waste responsibly.
Waste Disposal
Proper disposal of shed materials is crucial for environmental and safety reasons. Depending on your location and local regulations, you may have different disposal options:
Recycling: Many shed materials, such as lumber and metal roofing, can be recycled. Contact your local recycling center to inquire about accepted materials and drop-off locations.

Landfill: Some materials may need to be disposed of in a landfill. Ensure you follow proper disposal procedures and transport waste securely.

Donation or Reuse: If your shed materials are in good condition, consider donating them to a local charity, community organization, or individuals who can repurpose them.

Hazardous Materials: If your shed contains hazardous materials, such as asbestos or lead-based paint, consult with professionals who specialize in hazardous waste removal and disposal.
Some of Our Garden Clearance Pages
https://www.gardenclearances.uk/stansted-mountfitchet.html
https://www.gardenclearances.uk/bristol.html
https://www.gardenclearances.uk/wem.html
https://www.gardenclearances.uk/bacup.html
https://www.gardenclearances.uk/milnrow.html
https://www.gardenclearances.uk/romford.html
https://www.gardenclearances.uk/teignmouth.html
https://www.gardenclearances.uk/boroughbridge.html
https://www.gardenclearances.uk/willington.html
https://www.gardenclearances.uk/freshwater.html
https://www.gardenclearances.uk/newtown.html
https://www.gardenclearances.uk/alvechurch.html
https://www.gardenclearances.uk/linlithgow.html
https://www.gardenclearances.uk/ingatestone.html
https://www.gardenclearances.uk/rushden.html
https://www.gardenclearances.uk/livingston.html
https://www.gardenclearances.uk/sandridge.html
https://www.gardenclearances.uk/newbiggin-by-the-sea.html
https://www.gardenclearances.uk/newton-le-willows.html
https://www.gardenclearances.uk/cudworth.html
Conclusion
Garden shed removal can be a challenging task, but with careful planning, the right tools, and safety precautions, you can successfully dismantle and dispose of your shed. Whether you choose partial disassembly or complete demolition, always prioritize safety and proper waste disposal. If you encounter any complexities, consider seeking professional assistance to ensure the job is done efficiently and safely. With your garden shed removed, you can create new outdoor spaces or embark on landscaping projects to enhance your home's aesthetics and functionality.